Submitted by

sullive4

on Mon, 2015-08-10 12:48
Many users (including some of us!) are lamenting the disappearance of the Journal Titles tab on the library's homepage. We know that a title search for certain journals (e.g. Science, The Sun) can seem virtually impossible in the general catalog after we've been spoiled with a fairly robust journal-specific search for so long. To help you find precisely what you're looking for without blowing a whole Saturday searching the catalog, we've put together 3 recommended ways to go about finding access to specific journals:
1. Search by ISSN
If you have the ISSN for a journal (or do a quick Google search to find it), you can search that number and select the ISSN option from the dropdown menu to locate the catalog record and gain access.

2. Search the journal title in quotes
If the title is fairly unique, you can search the title in quotes and select 'Title' from the dropdown options to locate the catalog record and view access options.
3. Search using Online Resources A-Z
Clicking the Search button on the Books & More tab without anything in the search field will take you to the catalog interface on the Ebsco platform. In the top red banner, there is a link titled "Online Resources A-Z".

This link will take you to an extensive list of our online resources. Be sure to select the "Journals only" radio button prior to searching. Additionally, the dropdown menu include "Title contains", "Title begins with" and "Title exact match" options.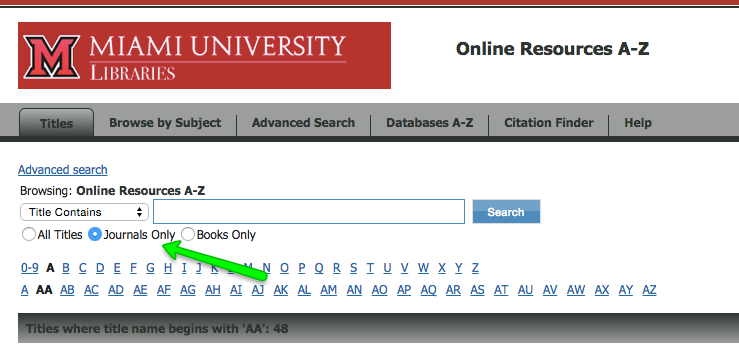 If you have trouble finding or access journals, please feel free to ask us for assistance. For immediate help, contact us via chat. You can also email your subject librarian or ask at any Information Desk in the libraries.