Submitted by

laddmm

on Tue, 2014-06-10 16:10
Please note that, as of June 1st, the URL of the Bowden Postcard Collection Online is http://digital.lib.MiamiOH.edu/postcards.
It's been about a year since the project first began, so I thought now would be a good time to review the latest updates to the Bowden Postcard Collection Online. As I wrote about in November, this digital collection is being developed from the donation of roughly 480,000 postcards by two friends and Miami alumni: Clyde N. Bowden and Charles Shields. The project began last summer with a pilot that used a handful of cards from each state in Bowden's collection. These cards were digitized, given metadata records, and added to CONTENTdm - our digital content management system.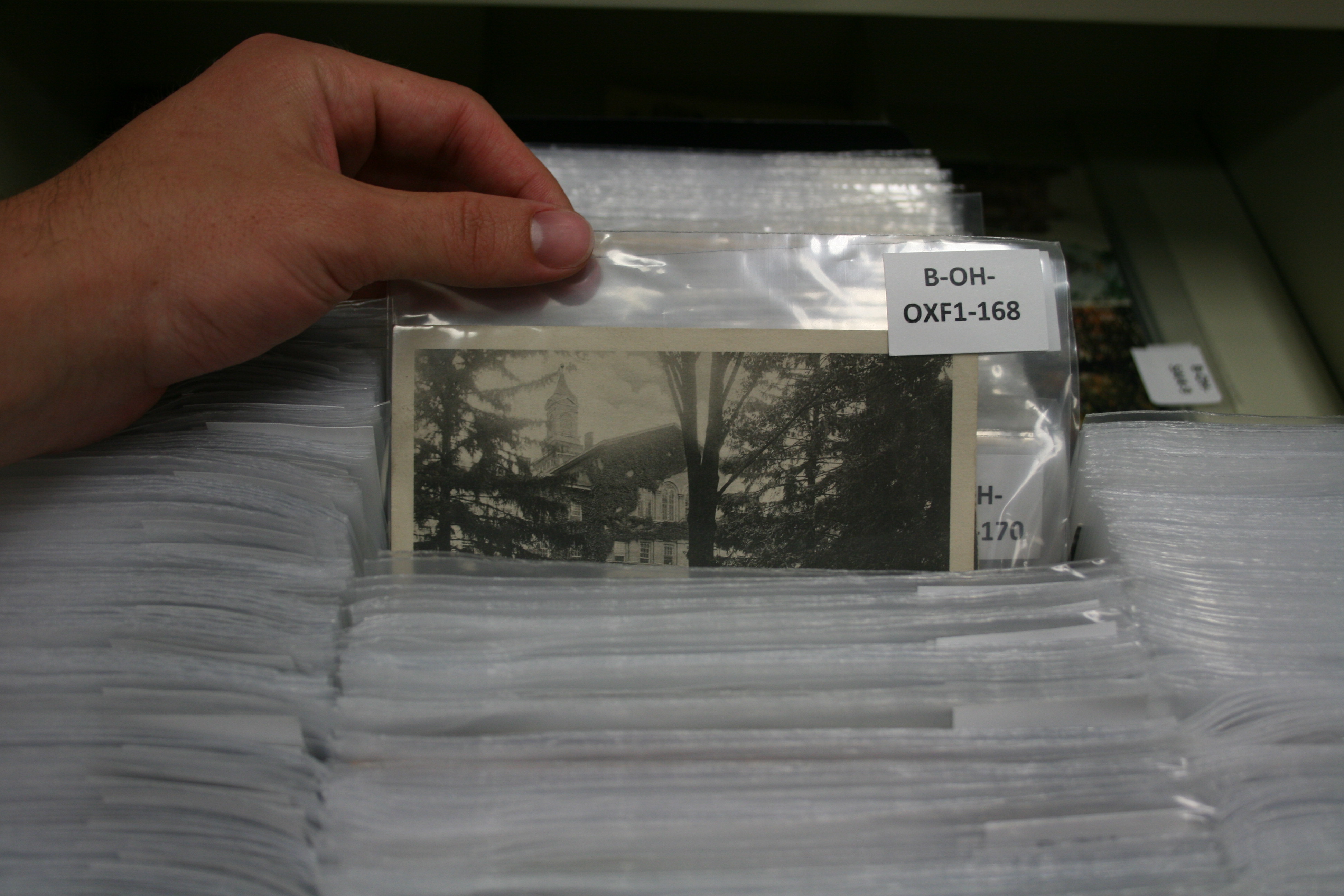 In the year since we began, we have digitized nearly 2,200 postcards, mostly from Ohio. There have been some setbacks along the way, most notably the recognition in December for a need to revise our already existing metadata records. At the same time, however, we have also made great strides forward. Clyde N. Bowden, the donor and namesake, was very excited to hear about the project and has given us a very generous donation to fund the current Ohio-focused work. His was not the only positive feedback we have had, either. Since joining the Commons, our digital collections' Flickr account - of which the postcards represent a substantial portion - has averaged between 10-20,000 views a day, and the number of monthly hits we have received in CONTENTdm for the full collection has likewise increased several times over. One particularly memorable response was from someone who recognized his father in a photograph used for one of the Oxford postcards.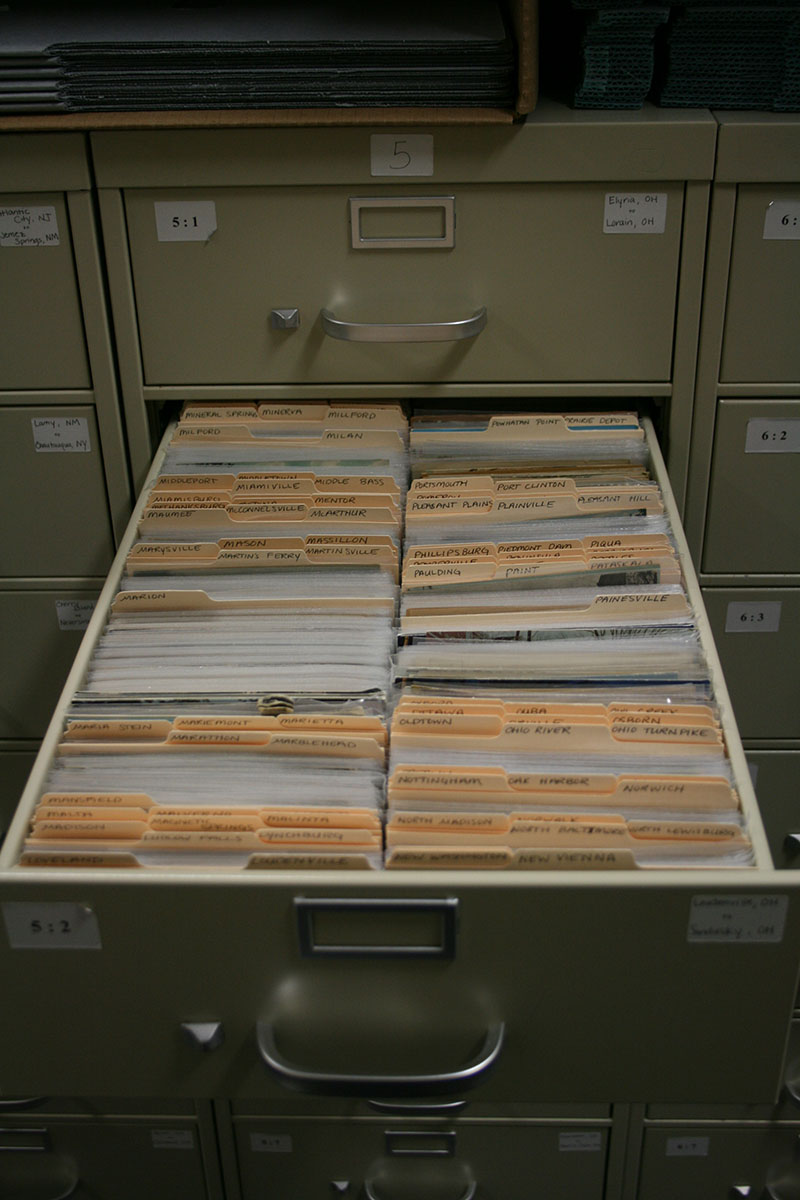 In addition to his financial contribution, Mr. Bowden also donated to us several boxes of books about postcards, books of postcards, and other postcard-related miscellanea. We are also receiving another generous donation from the Columbus Metropolitan Library in the form of roughly 500 postcards from their own collection - many of them being from the mid-20th century Middle East.
So where do we go from here? Thanks to Mr. Bowden's donation, we are able to investigate commercial digitization which will save a significant portion of our students' time and labor, allowing them to focus on creating the metadata records and adding them to the collection online. We also are expanding our operation and bringing on a third student this summer to help with the work. With the digitization outsourced and the extra help, I am anticipating having over 5,000 postcards online by the end of 2014. Once we have completed the roughly 8,000 postcards remaining in the Bowden collection, we will add the Ohio postcards from the Shields collection. My goal for the project is to complete both collections' Ohio cards - about 15,000 in total! - by the end of spring 2016. I have also created a Twitter account - @bowdenpostcards - to track new postcards being added to the collection. Although currently inactive for the summer break, I look forward to seeing the account continue to log the latest additions to the collection, including a fascinating postcard flipbook from early 1900's Portsmouth, Ohio (watch a video of it on the Special Collections blog here).
Finally, as part of the aforementioned metadata revisions, we have narrowed the geographic location of each card - sometimes even to a specific street or building! Using this new information, we are developing a map to visualize the data in the collection. The map will be created using the Leaflet JavaScript Library, as well as some homegrown PHP and MySQL. In order to gather the necessary information from the CONTENTdm database, I wrote a script that queries the API for information about each item. This information is then pushed to a SQL database on one of our library's server - and in turn will be used to populate the map. The script itself is set to run on a weekly basis to continually update the SQL database. By preloading all the responses from the API, we are able to significantly reduce the time required to load the map. I am hoping to deploy the map by the end of June, so keep an eye on the collection!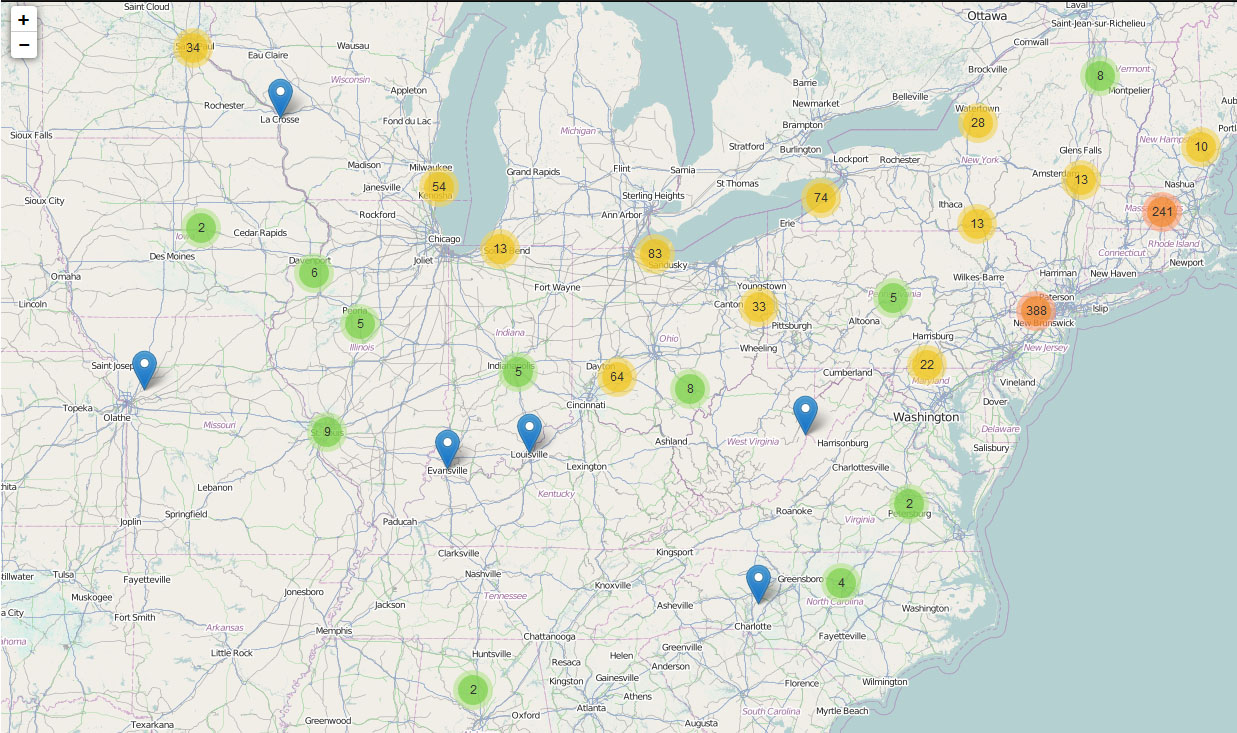 Happy browsing.
Marcus Ladd
Special Collections Librarian & Postcard Czar