Growing Information, Meta-, and Maker Literacies in Libraries and Academia | Reflections from a Luminary Entry 4
There's a lot more that goes on under the hood of literacy than many might initially suspect. Under Jaclyn Spraetz and Nathaniel Floyd in the Miami University Libraries' Advise & Instruct department, I was able to participate in and contribute to the design of a new, one-credit hour course within the IMS/ETBD department: IMS 202, Information Studies and Digital Citizenship. This course allows students to engage by learning information literacy in practice and explores contemporary developments in information literacy, policy, and ethics in a variety of digital dimensions, with weekly hands-on activities and discussions.
During coffee hours in prior departments, I'd heard about different academic librarians' unique struggles with attempting to teach information literacy concepts within short periods of time allotted to specific classes; this course isn't designed to entirely alleviate that problem, but it is intended to teach students how to perform research effectively both for their academic studies and in their day-to-day lives.
Now, it's also worth pointing out that there's a very different type of information literacy that tends to be forgotten: maker literacy. There's a thought today that one isn't truly learning unless they're doing. I actually think that learning does contain studying, but the other pieces of the equation, confidence and real-time effect, do indeed come with doing.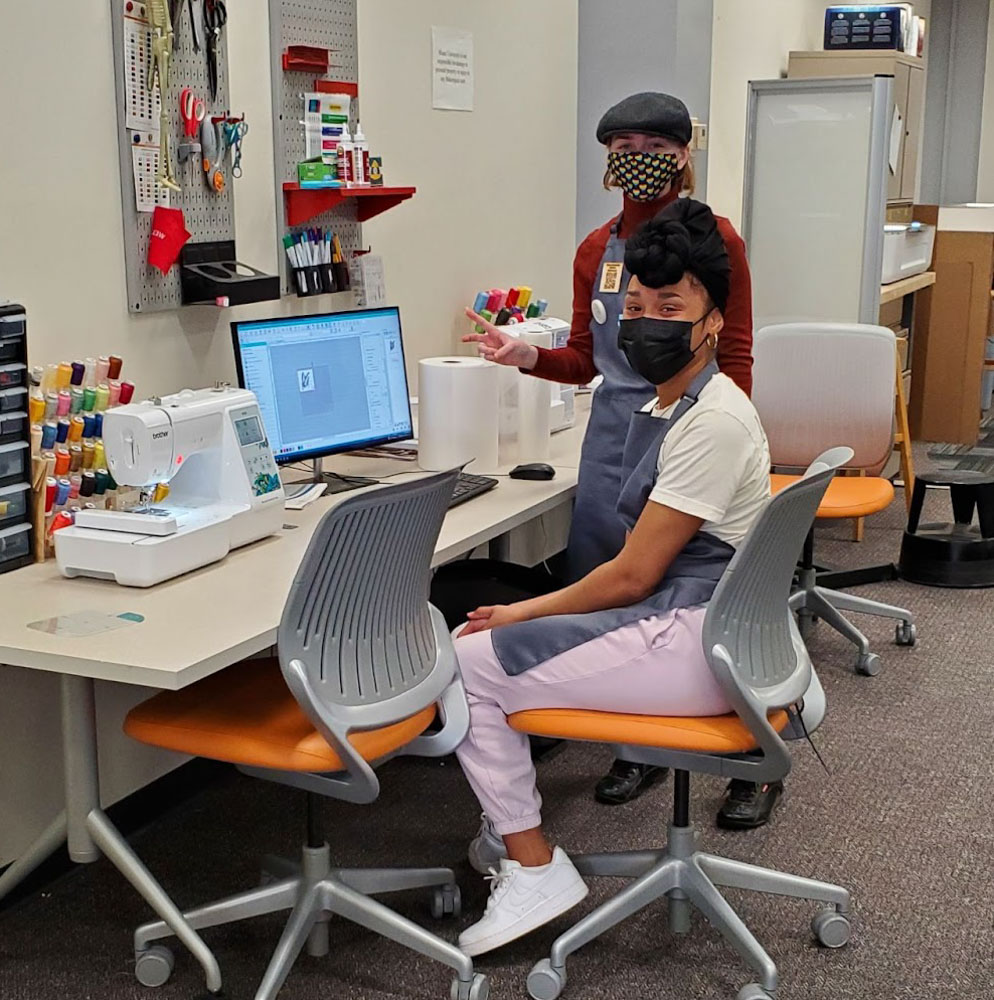 Sarah Nagle, Creation and Innovation Services Librarian at the Miami University Libraries, has a wonderful article "Metaliteracy and Maker Literacy" which discusses in much further detail what maker literacy is and how to develop it. Maker literacy is quite different from information literacy, but its outcomes are quite similar to those of metaliteracy. The two share such ideas as the gaining of skills, cognitive mapping of the given domain(s), attitude towards doing, and self-understanding of one's learning.
In extremely simplified terms, information literacy specifies an understanding of domain, metaliteracy describes an understanding of design, and maker literacy describes a capability to enact; these three overlap significantly into one another.
Libraries exist to provide resources and act as launchpads for different communities and institutions in society. Academic libraries typically are thought of as research launchpads; medical libraries and law libraries are field-specific; public libraries provide resources for the general population and often conduct community outreach programing. The makerspace uniquely serves as a project-based launchpad.
Keisha Norris, CEC Departmental Advisor at Miami University, also has some ideas on this subject, particularly as the CEC department only just introduced for this upcoming Fall 2022 semester a new course for first-year undergraduate students, CEC 111, Imagination Ingenuity Impact I (or, in lay terms, an introduction to project-based innovation in engineering). This is a pilot project, and is to begin in the Fall of 2022. Within the department, it's uncommon for first-year undergraduates to begin working with hands-on projects right away; this (hopefully two-part) course aims to connect students and allow them to start building confidence in their making skills and engineering-specific maker literacy as soon as they begin their degree. Norris is currently looking for more undergraduate assistants to join in on this effort; if any upperclass CEC students are interested, they should apply.
There are particular courses within the CSE department wherein particular facets of metaliteracy do stick out. As a CSE student, I don't have enough experience with CEC classes to provide further commentary on their courses. However, in such courses as Software Engineering for UI/UX Design, the civic mindedness tendency of metaliterate learners is built through consideration for user perspectives and accessibility. If there is one thing that these departments, both within the library and within the colleges, can agree on, it is that literacy increases autonomy. This is true for information literacy, metaliteracy, and maker literacy. It is worth mentioning as well that, for one to gain autonomy within a space, they must first be able to access it.
The Libraries do a good job of keeping their makerspace physically accessible. With plenty of room for navigation throughout the various areas of the space, there's plenty of room for everyone. Standing and sitting-height tables adorn the space, with many of both chairs that move and chairs that are still.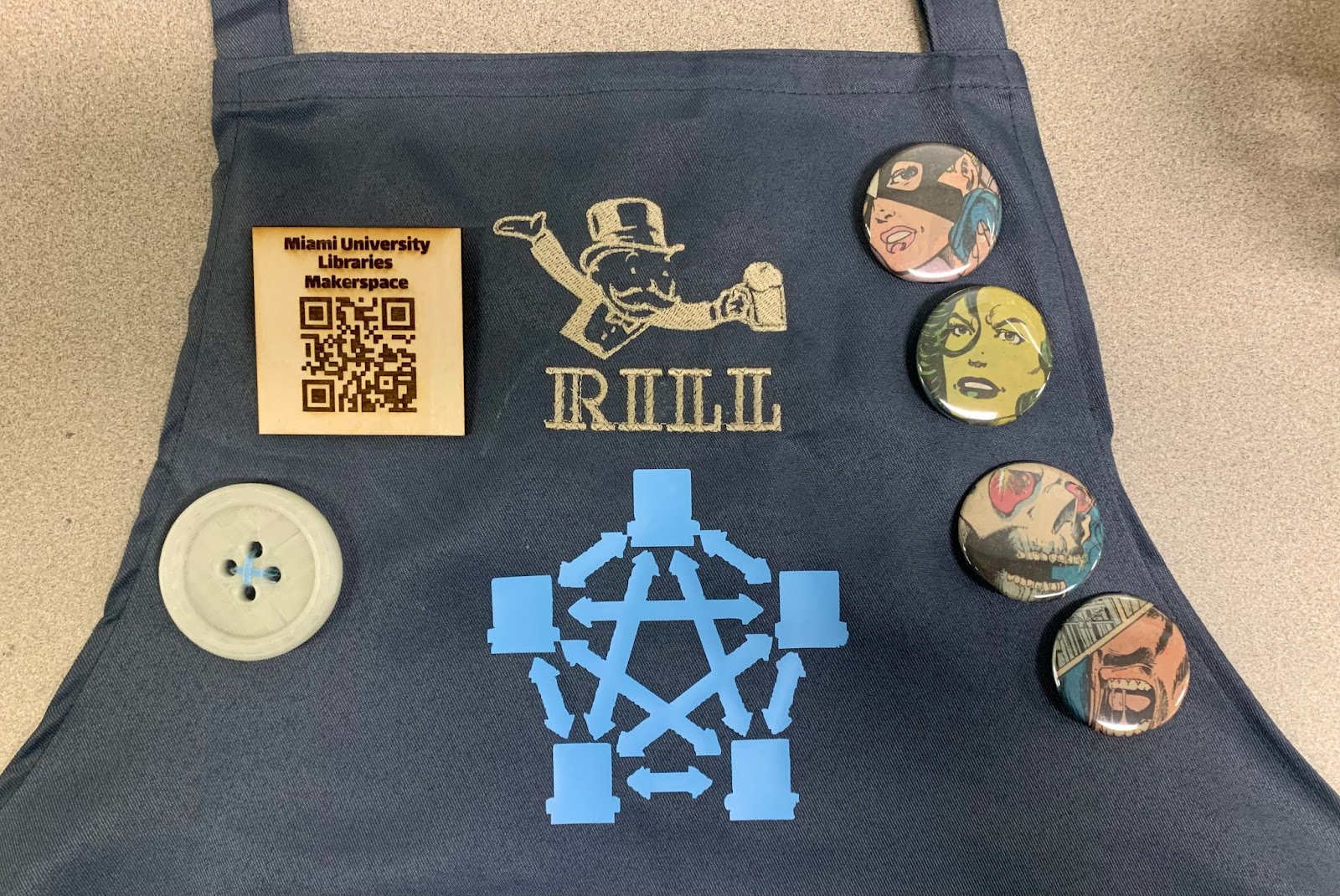 While working with Create and Innovate earlier this semester, I was able to pull together a bit of a student apron (my designs are much less complex than my fellow Luminary, Ashley Sankey's – I was too eager to learn a little bit of everything as opposed to the intensive, impressive deep-diving that hers displays). Student employees of the Makerspace all design these, adding items to them as they gain experience and competency with the various machines that the Makerspace offers usage of to the university's students.
Above, you can see that I learned button-making, as well as the fundamentals of the Glowforge (laser-cutting), how to use the embroidery machine, 3D printing, and more.
There are a few specific design choices that I made with the apron to note which tie into this discussion, however. Makerspaces, being community-oriented prototyping, crafting, repairing, and building spaces, are intrinsically tied to an idea in emerging technologies referred to as open-source. On the apron above, there is a light blue outline of a peer-to-peer network. This is not a reference to crypto-mining, for anyone who got excited at the mention of p2p. Neither is the monopoly man a declaration of support for monopolies.
Much of maker philosophy can be found in open-source communities and peer-to-peer networking enthusiasts. It is becoming more common than ever, now, to hear user complaints of the hindrances of web developments associated with Web 2.0. While UX researchers and designers are often left with the question of how much user autonomy is helpful versus distracting in task efficiency or at odds with increasing business metrics, both makerspaces and these niche software maker communities online find themselves with similar foreboding questions (including in the internet communities' fun and often highly-differing "internet manifestos"), accessibility concerns being one of them.
Just recently, the Makerspace got a rearrangement, with 3D printers moved to the back and a wire cover placed over the (very thick, with safety taken into consideration) only wire that I know, at least, to openly cross the floor. Just as before, there is plenty of room for maneuverability within the makerspace, with accessibility taking high focus in its reorganization.
In addition, on behalf of the makerspace student employees, I would like to introduce everyone to Guillermo. To anyone who likes to sit outside the Makerspace after-hours that may be reading this, we do promise that he neither bites nor comes to life to cause mayhem. He just stares.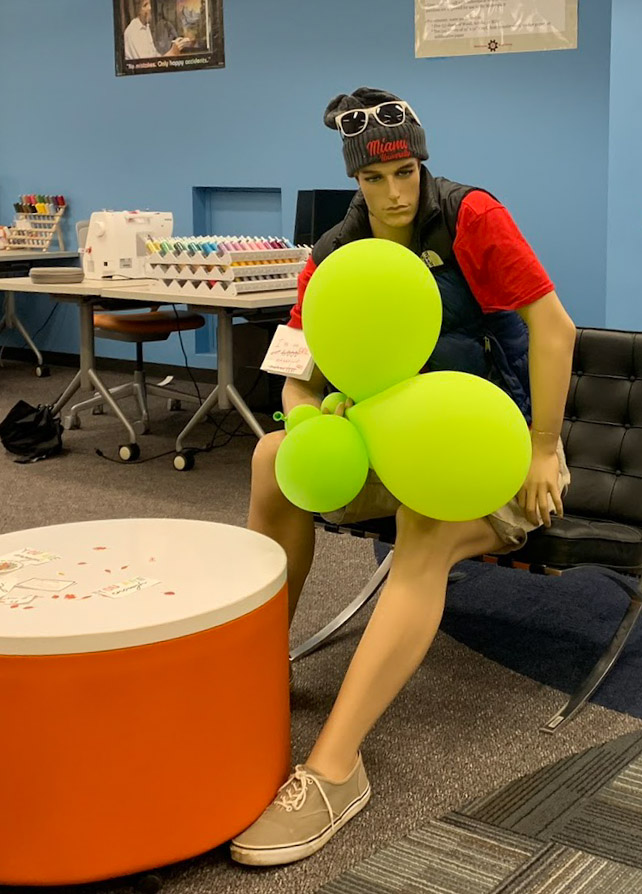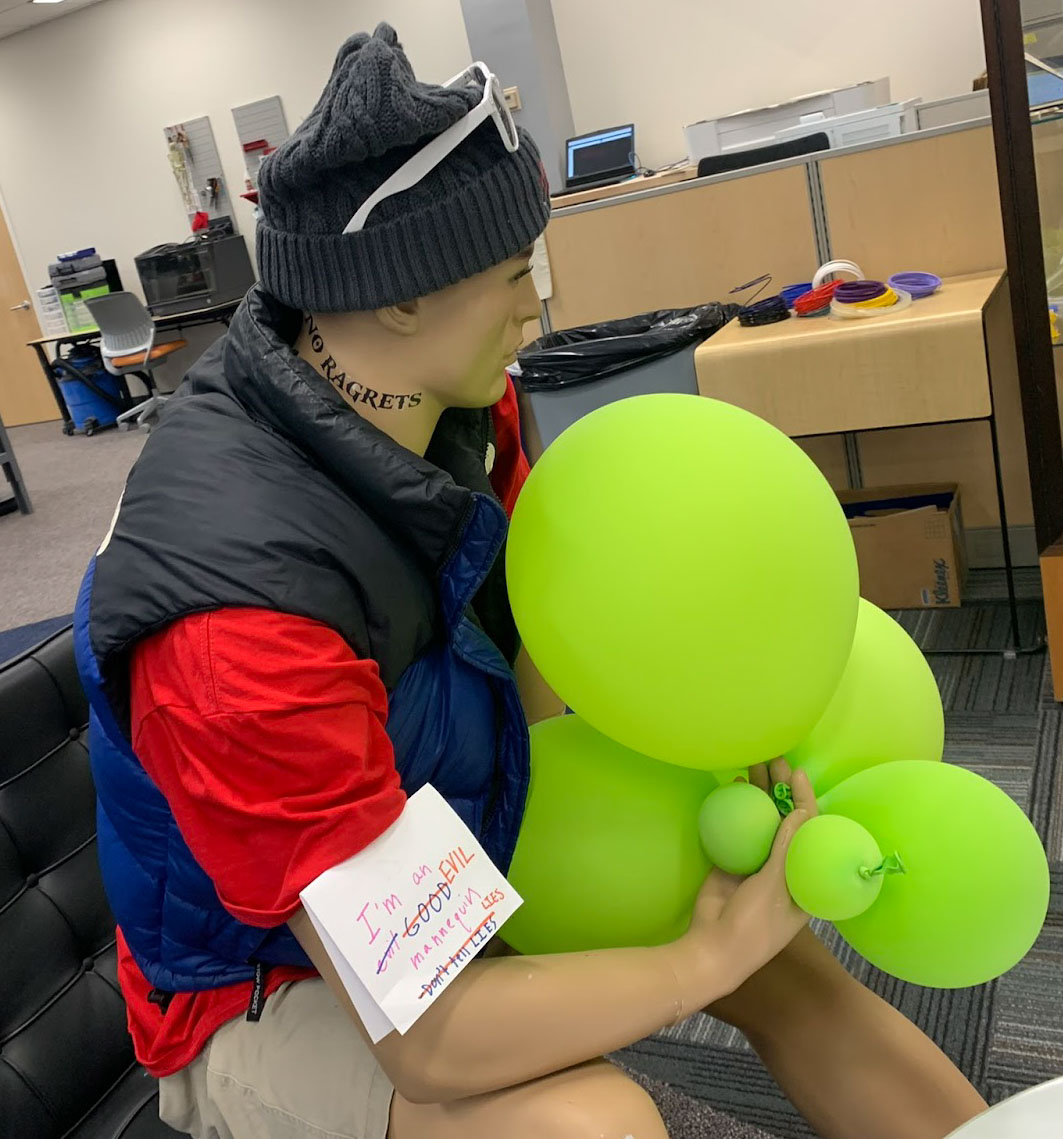 ---