Submitted by

wallerjl

on Tue, 2016-02-16 17:34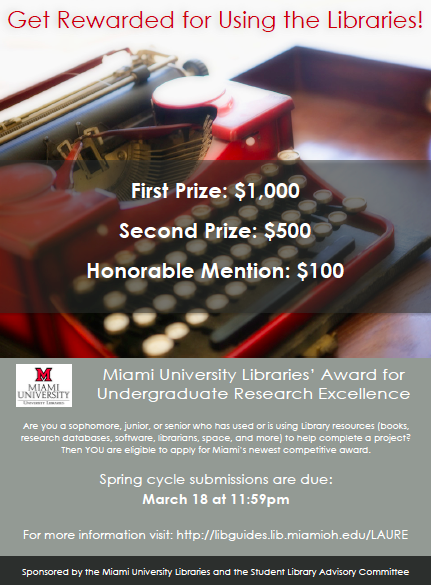 The Miami University Libraries are proud to announce the inaugural Libraries' Award for Undergraduate Research Excellence (LAURE). This award – open to individual and group projects in all disciplines – focuses on research as a process and the utilization of library-related resources and services.
If you're a sophomore, junior, or senior who has used (or is using) Library resources to help complete a project, then YOU are eligible to apply for this competitive award. Spring cycle submissions are due March 18, 2016. Award winners will be announced by April 20, 2016, in time for the Undergraduate Research Forum.
Have we mentioned the fantastic prizes?
First Prize: $1000!
Second Prize: $500!
Honorable Mention: $100!
You can find all the information you need, including evaluation criteria and example essays, at the LAURE website at http://libguides.lib.miamioh.edu/LAURE/home, but if you still have questions you can email LAURE@miamioh.edu.