Submitted by

kneerna

on Wed, 2019-05-01 15:55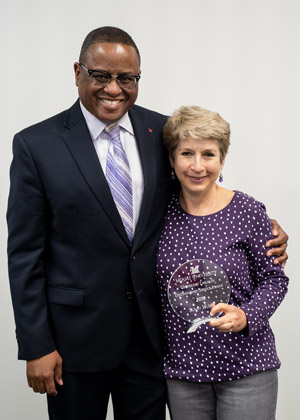 by Nick Kneer, strategic communications coordinator
With nominations citing her record of devoted service, exemplary librarianship and friendship, business librarian Susan Hurst was awarded the University Libraries' Distinguished Service Award on Wednesday, April 24 during the Libraries' Celebrating Our Own event.
Now in its sixth year, the annual award recognizes a Libraries employee for outstanding contributions and efforts that "embody the values of our organization and further the mission of the Library system." A panel of former award recipients choose each year's winner based on nominations from their peers. Hurst was 1 of 20 Libraries staff nominated this year.
Hurst's distinguished career with Miami spans some 35 years, beginning with student employment with dining services as an undergraduate in the early 1980s. She returned to Miami in 1992, joining the Libraries and holding positions in special collections, technical services and stacks maintenance before earning a master's degree in library science from Indiana University. She was then hired as the business librarian in 1998, and has served students and faculty in the Farmer School of Business through library instruction, collection development and research consultation ever since.
Her peers nominated her for "[being] a fabulous librarian, a rock star, and a great example to us all," and "a wonderful colleague and an excellent ambassador for the Libraries, with many years of devoted service to student success and unwavering customer service."
"It is a real honor to be recognized by your colleagues. It's probably the greatest honor you can get." Hurst said. "I really appreciate it."
Also recognized at the event were staff members with 15 and 30 years of service with Miami.
15 years of service
Michael Bomholt, Technology Development Manager
Michael Kumler, Development Director
Don Morner, Library Technician
Tricia Zeiser, Senior Library Technician
30 years of service
Sandy Burwell, Senior Library Technician
Denise Downing, Library Assistant
Jenny Presnell, Consultation Librarian and Bibliographer


2019 Distinguished Service Award nominees
Kris Abney
Jennifer Bazeley
Laura Birkenhauer
Stephanie Blankenship
Ginny Boehme
Craig Boman
Lori Chapin
Nate Floyd
Susan Gray
Stefanie Hilles
Mary Hubbard
Lindsey Masters
Bill Modrow
Abi Morgan
Sean Poppe
Kay Russell
Sabrina Smith
Eric Weaver
John Williams