Submitted by

wallerjl

on Wed, 2015-10-21 21:59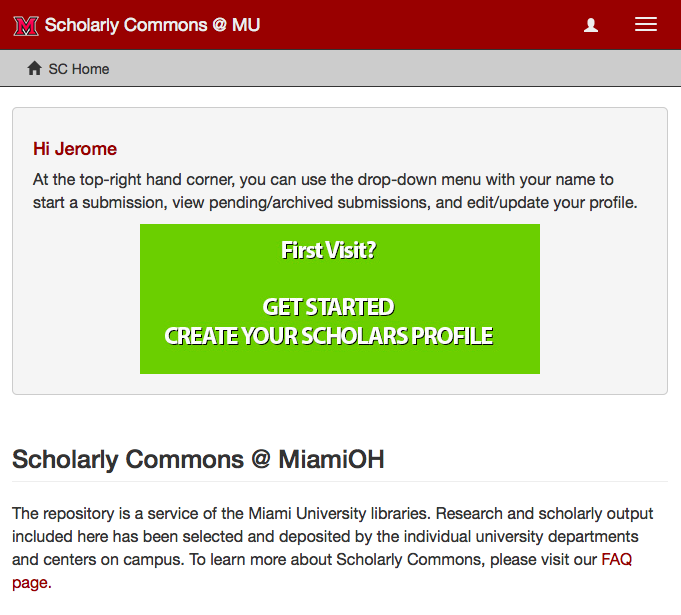 Open access is all about making it easier for people to share information – especially scholarly information. By making your articles, presentations, working papers, data, and other research products openly available, your impact reach increases! The easier it is to access your work, the easier it is to cite your work.
Miami's Scholarly Commons is free to the Miami University community, and its new enhancements make it simple to use. By uploading your work to the Scholarly Commons, your scholarship will be gathered in one location that will be preserved.
Enhancements to the Scholarly Commons include:
A new faculty profile option: Create your own scholar's profile with picture, bio, C.V., links to social media accounts, research interests, etc. Your profile seamlessly integrates with your collection of full text articles in the Scholarly Commons. You'll get a permanent URL that connects directly to your scholar's profile.


Metrics: As people view and download your works, they are counted. You can now see how many times your work has been downloaded and which countries have your fans.
It's simple and easy to get started, and these short videos show the process step by step:
Or go directly to sc.lib.miamioh.edu and log in using your Miami unique I.D. and password.
Would you like more information about the benefits of uploading to the Scholarly Commons? Would your department benefit from a short presentation about the benefits of openly sharing your work?
Contact your liaison librarian who would be happy to work with you!
Happy Open Access Week! Happy sharing!