Event Date:
Saturday, December 1, 2018 -

6:00pm

to

10:00pm
Location:
B.E.S.T. Library (Laws 116)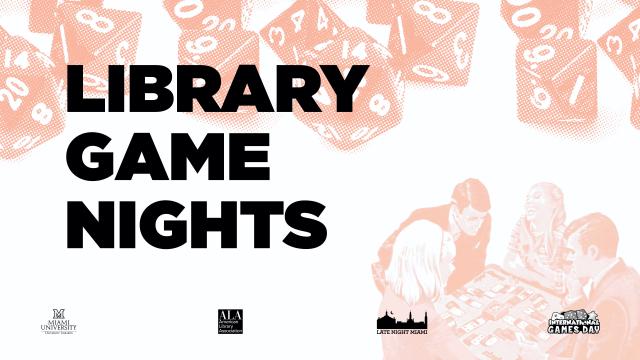 The University Libraries are opening up the games collection and supplying free food for five Library Game Nights this fall. Join in the fun with your fellow Miamians and choose from a large variety of board, tabletop, and card games from classic to contemporary. No experience is required, and all students, faculty, staff and families are welcome.
The full schedule follows:
Saturday, Sept. 8 – 6 p.m. - midnight
Amos Music Library (120 Center for Performing Arts)
Co-sponsored by Late Night Miami
Saturday, Sept. 29 – 6-10 p.m.
Wertz Art & Architecture Library (7 Alumni Hall)
Friday, Oct. 19 – 6-10 p.m.
B.E.S.T. Library (Laws Hall)
Saturday, Nov. 10 – 4 p.m. - midnight
King Library
Saturday, Dec. 1 – 6-10 p.m.
B.E.S.T. Library (Laws Hall)