Following the success of last year's pilot of the OhioLINK Luminaries program, the Miami University Libraries are continuing the initiative this year with two undergraduate participants. Romero Pearson is the newest Luminaries student, joining Hal Howard, who has returned for his second year of program participation.
The Luminaries program is an effort coordinated by OhioLINK, Ohio's statewide academic library consortium, that aims to increase representation in library and information sciences careers among underrepresented populations. Through paid, resume-building student employment and support from a mentor, Luminaries gain a broad introduction to the library and information studies profession by rotating through each of the different departments within the Libraries. This exposure to the wide variety of roles and specializations can influence a participant's decision to pursue a library career, and the hands-on training and networking opportunities bolster Luminaries' abilities to establish their careers.
With the fall semester coming to a close, the Luminaries reflected on their experiences and looked ahead to applying the skills and knowledge they've gained.
A Q&A with this year's Luminaries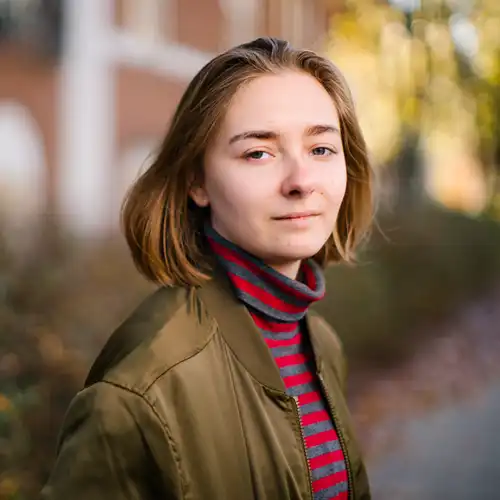 Hal Howard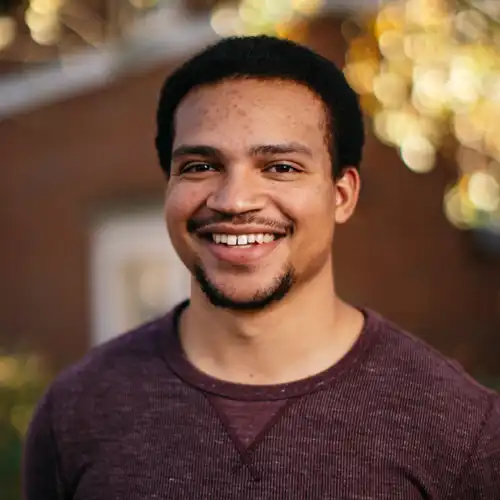 Romero Pearson
Academics
Senior Computer Science major
Third-year Software Engineering major with a minor in Humanitarian Engineering
Do you have any hobbies?
Adding things to my reading list and then waiting
Automotive enthusiast; Investment in self-improvement, reading motivational books, and meditation
What are your interests and areas of study?
Public-sector digital innovation
I am motivated by the idea of improving current technology or designing something new. I want to explore what engineering can do for humanity - not simply advancing technology for the sake of technology, but using technology to advance a purpose.
What has your experience been so far at the Libraries?
In my second year, the environment is still welcoming, kind, and open. The experience has been active in direct implementation while concurrently heavy in domain knowledge uptake. Year one and year two are very different; year one was fast-paced, with onboarding in each new department occurring every month or so. Year two is focused.
Each librarian I've engaged with has provided informational feedback. If you ask a question, there is always someone willing and able to help out. The guidance is always helpful and the feedback goes beyond what I could research on my own - it's always beneficial and directed. I really enjoy how everyone here has a positive mindset and is enthusiastic about the work they do. It's a very tight-knit community, and you can tell the staff enjoy working together.
What are some of the projects you've worked on this semester?
We're building a Node.js application to provide human-friendly Chromebook due status reporting and shut down overdues… my primary role in this project is Node.js developer In October, I had a poster presentation at the Academic Library Association of Ohio annual conference. I recently found out that this presentation received the People's Choice Poster Award!
Two of my completed projects include a photogrammetry project and a Knovel tutorial video. At the end of the fall semester, I was working on data visualizations of connections between the library's resources before and after COVID, examining how students engage with online library resources pre- and post-COVID.
What do you hope to gain from the Luminaries program?
I want to continue to learn about and contribute to the initiatives and projects that the skills that I've built lend themselves to at the libraries. Even being able to hear and conceptualize or verbally engage and learn about projects that I'm not involved with is eye-opening. Further, it's satisfying to see direct impacts of one's work -- rare for academic semesters.
My overall goal for the program is to gain skills I can take into a professional setting after graduation. Improving my professional communication skills is my primary goal — working in teams, collaborating with a supervisor, and translating technical language into practical terms.
What are your plans for the future?
Pay off student loans, get through grad school, and ultimately obtain a position where I can work on projects while simultaneously performing research.
When I envision the future, there are so many possibilities. I plan to use the next two years to be intentional in deciding which path I'd like to pursue. One option I'm exploring is adding another year to my current program in order to pursue the five-year masters plan. No matter what path I take, I'm confident I would like to work for a larger company in the automotive industry, focused on software development.
What were some of the highlights from your experience last year?
Undergoing the process of generating metadata — the considerations for terms within fields -- is very different than constructing a database schema. Doing this for the Documenting the COVID-19 Pandemic digital collection was definitely an experience. Learning front-end web development through development of the Finding Freedom Summer Traveling Exhibit's website prior to having worked with anything front-end web for a decade or so was definitely a process; it also allowed me to learn more about the Freedom Summer than classes at the university have the time to teach. (For more details, visit Hal's reflection blog from his first-year experience.)
How does your experience so far this year differ from your first year?
This year is much more focused. Additionally, I've returned with more confidence and a network in place where I know who to go to with questions, ideas, and support.
---