Curbside pickup is available at King Library for Oxford campus materials
Personalized service — with extra personal space
Beginning Tuesday, June 16, Miami community members can request and pick up materials from the Libraries' physical holdings on the Oxford campus through a new curbside service at King Library.
1. Place a hold
Place a hold on the item(s) you'd like, and select King Curbside as the pickup location.
You can request materials from any Oxford campus library:
King Library
Amos Music Library
Wertz Art & Architecture Library
BEST Library
2. Get an email
When your items are ready for pickup, we'll send you an email to let you know.
It may take a few days for us to process your request and retrieve your items — especially as we first start this brand new service.
Thank you for bearing with us!
3. Drive up
Once your materials are ready, drive up to King during our curbside pickup hours:
Tues. or Thur.
1-5 p.m.
Park in the King Library lot near King Cafe — see the map below for more details.
4. Call up
When you're here, call us at 513-529-2433 and let us know.
Texting isn't supported, so please call.
Inside the library, we'll check your items out and bag them up for you.
5. Enjoy!
We'll bring your items out and load them into your trunk.
To keep everyone safe, we'll stay at a distance of at least six feet, wear masks, and wash our hands frequently.
Happy reading!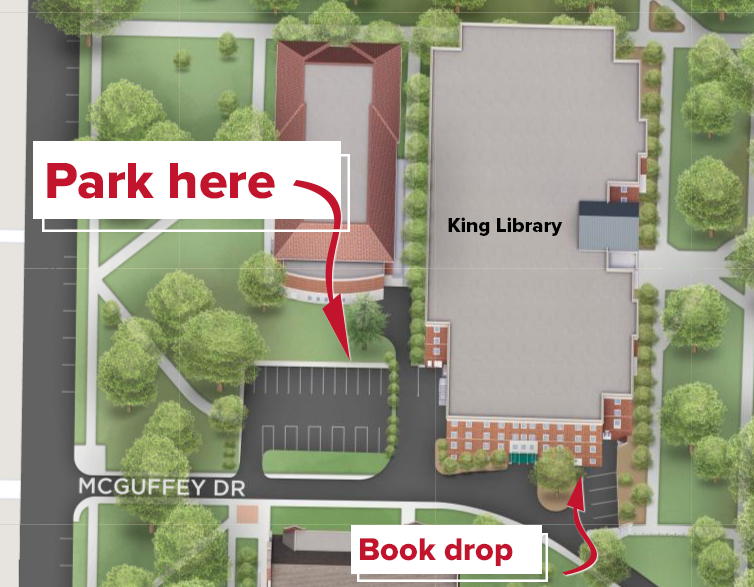 Since the Hamilton and Middletown campus libraries and SWORD remain closed, this service is only available for materials at the Oxford campus libraries for now.
For safety, staff wear masks, wash their hands frequently, and stay at least six feet apart.
If you need to interact with library staff for any reason, please do us the courtesy of remaining at a distance and wearing a mask.
What about returns?
This one's easy: use the book drop on the south side of the building, to the right of the King Cafe entrance.
As standard practice, we're quarantining all returned items for at least three days before reshelving to make sure any potential virus dies off. This protects both staff and any Miamians who request those items in the future.
What if I'm not in Oxford?
Through our document delivery service, current Miami students, faculty, and staff can request digital copies of print works held in our collections — e.g., articles and selections from books.
Make a document delivery request
Questions?
We're here to help! Send us an email at LibFines@MiamiOH.edu.