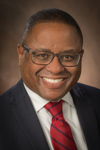 Welcome to the Miami University Libraries website! Our website offers a glimpse into the countless resources and opportunities our Libraries can offer to students, faculty, and staff.
The overarching goal of the Libraries at Miami University is to continue to play a key role in one of the top undergraduate experiences and programs in the country. Our staff and facilities offer countless support and opportunities for undergraduate and graduate research, technological projects and initiatives, and a vast collection of print and digital books. The flexibility of our spaces on campus allows our facilities to meet the students' needs whether they are studying for an exam in our quiet study space or working on a group project in one of our various study rooms.
Expansions and upgrades in our technological abilities have allowed our Libraries to adapt to a modern era of Libraries and their ever-changing role in the research and learning process on University campuses. I am please to say the Miami Library system continues to be innovative and supportive of these changes.
Our Libraries have enjoyed 200 years of success and we look forward to 200 more years of playing an influential and impactful role in our students' experience here at Miami University.
Contact Us
151 South Campus Avenue
224 King Library
Oxford, Ohio 45056
513-529-3934
conleyj@miamioh.edu