Construction is underway on a renovation of part of King Library's first floor at the former Center for Information Management (CIM) space and the Inez Kamm Electronic Classroom, representing a first step toward a modernization of Miami University's main library facility.
When completed, the estimated $675,000 project will transform the area into an open and collaborative lounge, a classroom with seats for 24, a 16-seat conference room, and a breakout space that can accommodate up to 20 people. The new areas will connect and extend the adjacent Inez Kamm Electronic Instruction Room (King 110) and bring more natural light to th​​e southwest corner of the building.
Once home to computers with software like the Adobe Creative Suite pre-installed, the former CIM space is ripe for transformation now that students can check out popular software from the library website, including the Adobe Creative Cloud, Final Cut Pro, and Logic Pro, to use on their own devices. The Libraries launched the software checkout system in fall of 2020.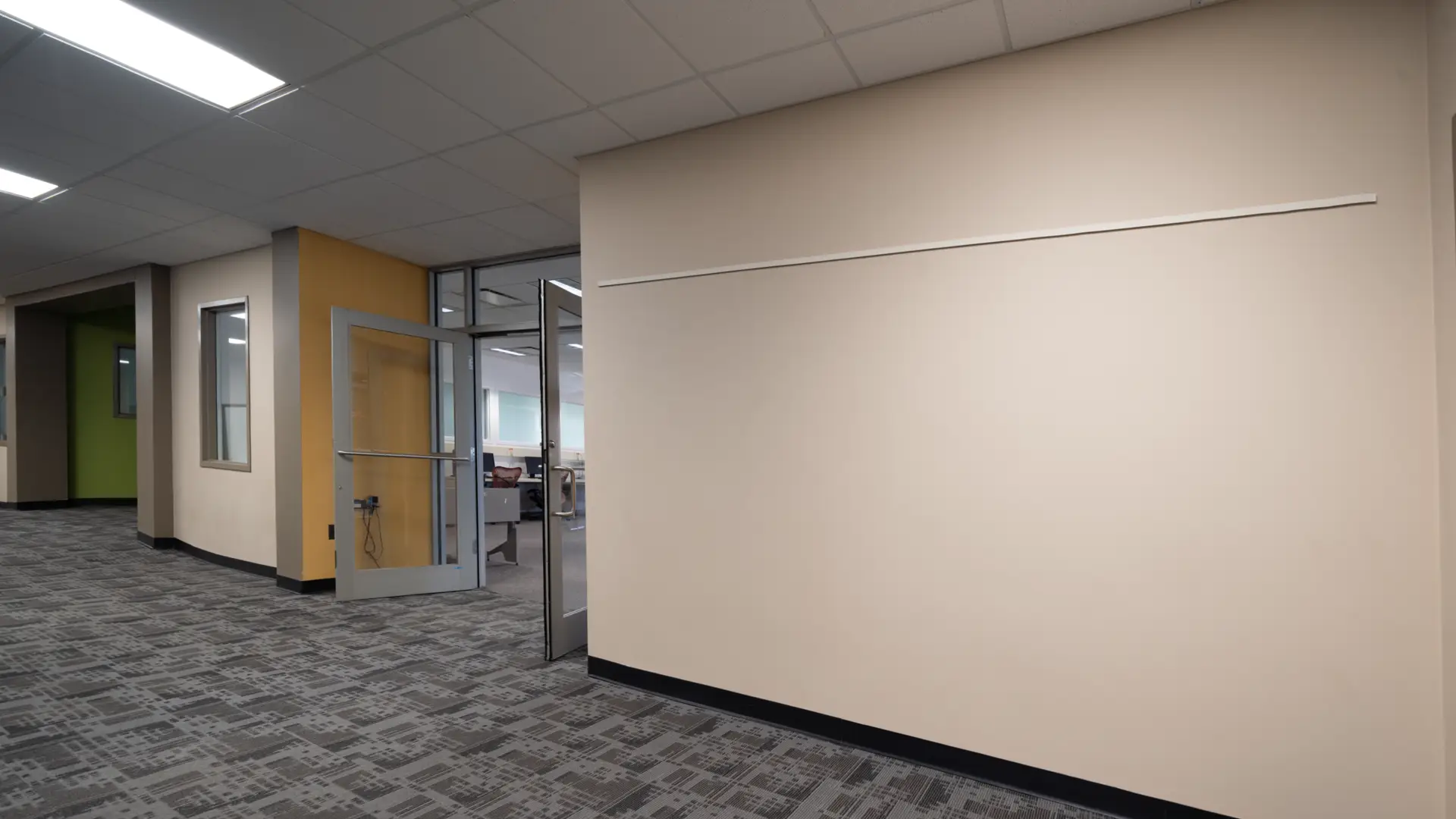 The Libraries' Makerspace (King 303) also hosts the high-performance computers and digitization tools once found in the CIM space—in addition to laser cutters, 3D printers, embroidery machines, and other equipment.
The plan moves the library closer to achieving the vision of the Libraries' Facilities Master Plan, which was developed in 2016 and outlines a comprehensive renovation of King Library at a cost of approximately $50 million. To begin making meaningful progress to this much-needed infrastructure modernization, Miami and the Libraries engaged the architecture firm GBBN to break the project down into smaller phases that could build on one another.
From this phased approach came "King Kickstart", an estimated $12-16 million project that would renovate the ground and first floors and link them with a new grand staircase in the center of the library. The plan would also move the popular and expanding library Makerspace to the first floor, making it more accessible and visible. Through storefront-style glass walls, a reconfigured circulation and help desk, and a reimagined lobby with greater visibility, the project would enable students, faculty, and staff to more easily navigate and discover library resources, spaces, and services.
While fundraising is underway for "King Kickstart", the Libraries directed resources and leveraged endowment funding to achieve a portion of the first floor renovation: the transformation of King 112 and extension of Kamm (King 110) into a new lounge, breakout space, conference room, and classroom.
Additional recent efforts to modernize King Library's infrastructure include the installation of geothermal energy piping through the ground floor in 2023 and an anticipated replacement of all the building's windows in 2024.
---