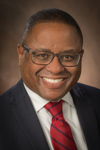 Jerome U. Conley has served as Dean & University Librarian for the Miami University Libraries in Oxford, Ohio since January of 2013. He began his career at Miami University in 1992 when he was appointed a minority resident librarian.
Conley has served in numerous positions during his time at Miami including coordinating head of special libraries, assistant to the dean, and reference librarian for the departments of government documents and law, maps library, and the Brill Science Library.
Conley is also a former President of the Academic Library Association of Ohio (ALAO) and has served on numerous committees within the American Library Association.
He earned his bachelor's degree in political science, an area certificate in Uralic and Altaic studies, and a master's degree in library science from Indiana University. Dean Conley currently resides in Oxford, Ohio and is originally from Muncie, Indiana.